Coastal interior style is making waves because of its laidback feeling and bright, welcoming look. Natural, down-to-earth, and approachable.
Just because you don't live near the coast or are feeling rather 'landlocked', doesn't mean you can't bring the sea to your home. Coastal-inspired designs have a comfortable, chic look that reminds you of a holiday cottage by the sea.
Taking inspiration from all that you love about the beach, this themed design uses natural light to highlight the clean aesthetic of the space. With its calming colors, soothing hues and touches of earthy tones, this interior style gives off a relaxing vibe that is reminiscent of the feeling when you bury your toes in soft, white sand.
But be warned, coastal design doesn't translate to tacky seashell designs on the counter, beach signs hanging on the wall, or a message-in-a-bottle decor. It veers away from cliché accessories linked to nautical designs.
Instead, this seaside aesthetic is clean; the look achieved through subtle undertones inspired by the natural coastal environment. Think of refreshing, breezy getaways and an organically comfortable space that you can easily spend entire mornings and afternoons in.
Photo source: Foter
Welcome the sensations brought about by beach resorts. Remember how the salty air tingles your senses, the look of cotton candy horizons and use these images and feelings when making your own coastal-inspired living rooms.
Here are 10 tips you'll need to create this year-round calming coastal getaway.
1. Natural textures
The first step to embracing this beach-y look and vibe is through natural textures. Being in a coastal environment is one of the nearest moments you can be to mother nature. With the unpredictable beauty and varying sensations felt on the coast, you bring these unforced imperfections to your home's design.
With this, you welcome jagged edges and uneven surfaces. These subtle touches are clearly visible and add that homey yet sophisticated image without being too overwhelming. Think of incorporating a little bit of hewn wood – either as ceiling beams, mantel surface or frames for passageways or doors. Stain it with a lighter color if you want a clean, neutral effect; or a dark one to create depth.
Water hyacinth wicker decor is another option where you literally bring in a part of the water into your home. Injecting a sparse amount of this should be enough so as not to overwhelm – they naturally complement the wood design and mirror the natural beach vibe. Also, indoor plants are easy touches to breathe life into the space while staying true to the natural theme.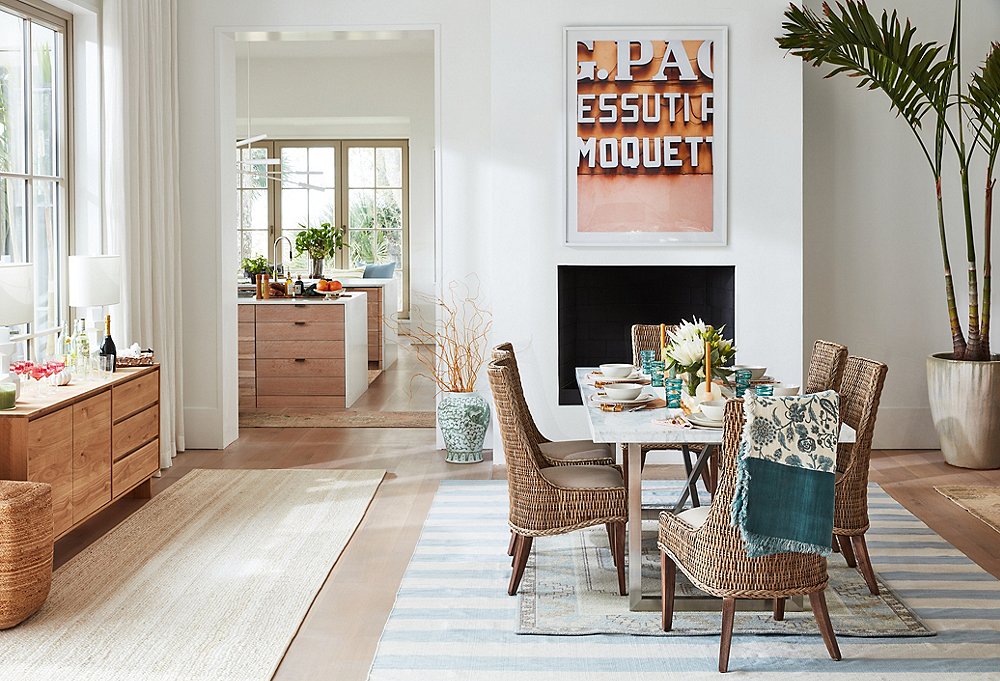 Photo source: One Kings Lane
2. White-washed shiplap or clapboard walls
Another way to easily turn your home coastal is by incorporating white-washed shiplap or clapboard on all your walls or on the large side of the living room. To make the most of this effect, do it with reclaimed shiplap wood. This way, you're saving the environment and fully bringing the beach vibe home. Similar to the tongue-and-groove method, this style also uses wooden panels but with a tighter, overlapping fit.
You can paint the entire wall a dirty white, mimicking the frothing waves or have it stained a distressed look for that very natural feel. There are others who color it the soothing blue hues of the horizon too. No matter what shade you wish to cover it with, this added rustic touch embraces natural elements too – plus, it has a beautiful New England charm to it.
However, if it's not possible to use reclaimed wood, there are other ways to trick the eye into thinking you have shiplap walls (or ceilings). Use wood wallpaper, wall mural or plywood panels.
Photo source: Ideal Home
3. Driftwood accessories
Since coastal interiors are inspired by natural, down-to-earth elements, you can accessorize with driftwood. These are honest, raw materials that bring you that beautiful imperfect look and feel with randomly designed edges and sides. Driftwood accessories are unique, one-of-a-kind pieces so you'll own decor you won't see anywhere else.
Plus, driftwood accessories can bring your living room a sophisticated luxurious feel. Just remember not to use too much. Depending on the size of your space and the driftwood decor, one to two pieces in a room should be enough. You can make it a focal point on your center table, a pretty addition on your side table or shelf, a statement piece in the center of your mantel or hung on your wall.
If you want more drama on your driftwood, you can darken it using polyurethane or just deepen the color by applying a finish or driftwood-colored wood stain.
Also, there is furniture that is made entirely from the natural shape, curves and edges of driftwood. If you're loving this natural wood look, your center table can have driftwood for its legs or stand. A discarded tree trunk can be made into a side table or interesting corner decor. By doing this, you're injecting some sustainability and biophilic design practices into your home too.
Photo source: Home Design Now
4. Accessories with an industrial edge
Another way to accessorize your coastal living room is with an industrial edge. Think of beach huts and the rusty, unpolished fixtures and accessories they have. Because you don't want to go for cliche accessories like seashells or oars, go for a different touch that mirrors a food kiosk for surfers at the beach.
Install some exposed light bulbs, metal lines and shelves, some exposed steel pipes and bookends. These add a level of sophistication without veering away from the natural feel of being near the coast. Although you don't want to put too much of this industrial touch because it might turn into a minimalist bachelor's pad. Seeing a few touches to lightly remind you of a visit to a lighthouse or a cottage by the sea should suffice.
You can have this installed as your main ceiling light in the living room. A creative way is to turn old-school lanterns and use them as wall light, similar to sconces. When your living room is flooded with natural light during the day, these metal finishes will look like exposed rawness. At night, they brighten your space without being too much.
Photo source: Desire to Inspire
5. Dove or misty grays
Coastal-inspired living rooms have to be bright and airy. There's no other way to have it; only then will you be able to imagine the wind in your hair, sand beneath your toes and relax like you do on the beach. With this design theme, you're going for a clean aesthetic that's warm and inviting.
Instead of having a plain white underlying color palette, make it dove or mistry gray instead. White will make it too stark and clinical and lose that relaxing ambience. With this warmer shade, you bring the color of the waves to life and contribute to emphasizing the natural light that enters your living room.
Dove grays also bring a contemporary touch and sophisticated spin to your themed living room because it does not go overboard.
'It is incredibly easy to over-furnish a coastal space, but that is one mistake you don't want to make,' says Becca Casey of Becca Interiors to Homes and Gardens. 'I advise taking a less is more approach. A simple color scheme is the perfect excuse to create a haven of peace and tranquility.'
Photo source: Ideal Home
6. Sun-bleached hues and earthy neutrals
Along the same lines, you complete your coastal tone by using sun-bleached hues and earthy neutrals. Staying true to the natural theme from all the previous points, with this color scheme, you bring the shades of the beach home. Sun-bleached hues give a light, easy-on-the-eyes shade because it aims to calm, not stimulate.
Use subtle blue silhouettes, pale stains of wood and light grain for your flooring. For the covers of your couches, pillows and throws, use loose striped fabric to bring home that comfortable, nautical feel. Make sure to mix and max the patterns – think, thick strips, color blocks, etc.
For earthy neutrals, get inspiration from the wood panels, beams and driftwood shades. You can take cues from the popular Japandi design where earthy-neutral colors are a must. Combining this with the soothing blues will immediately turn your space into a lovely beach house.
If you're worried that your living room might be too plain, don't worry. Read on to the next point.
Photo source: Home BNC
7. Bring depth with darker tones
While you want the overall color tone to be soft and light, you can add some bold pops of color here and there. But remember to keep it to a minimum. Some favorite shades that create a playful spin to a coastal-inspired space are orange or teal wherein you bring the color of the water and the sky into your home.
Other complementary shades that still give you beach-y vibes are taupe, magnolia and chocolate. Choose two to three of these deeper, darker shades as finishing touches to your living room and create more depth. Lend color with your pillows, throws, a lamp or other wall decor.
Otherwise, if you wish to stick to the blue hues, create some contrast with deep blue decor to layer the design of your space. Thick navy + white stripes on pillows give an inviting nautical spin. Or, have accent furniture in a dark blue shade to serve as a bold statement piece.
Photo source: Ethan Allen
8. Pared back or distressed furniture
If you're going for this laidback theme, you need furniture that invites you to sink into it – they should have a 'lived-in feel'. Again with this point, we go back to reclaimed wood with grains, or weathered wood to show how these natural elements have faded designs over time.
Go for pared back or distressed furniture. Opposite to bright and bold, pared down designs connote slower, relaxed and calmer emotions that go perfectly with the sun-bleached and earth palette you've got going. These are usually crafted from natural materials whose appearance slowly changes over time. Partner your furniture with bleached linens to go all the way with that soft and carefree feeling.
Additionally, this approach gives you natural, unforced changes to your designs that create welcomed imperfections. Even your furniture beckons you to use them. The total opposite of those ultra modern or minimalist houses where you feel you have to be careful or else something might break.
Photo source: Ideal Home
9. Soothing tones on the floor
Envelope your entire space by bringing those soothing tones all the way to the floor. Light flooring or blonde wood floors go great with this theme. If you have a bold statement piece, with a deep shade, light floors create a balanced, layered look that can ground the piece along with every else in the living space.
If you're unable to change your flooring, you can layer rugs on it instead. An easy, straightforward alternative. Go for woven jute rugs or light colored ones that are low pile. This way, they are easily comfortable without making them too soft or fluffy which might slightly stray away from a clean aesthetic.
Photo source: Southern Living
10. Coastal artwork on a plain wall
Lastly, as a finishing touch to your coastal-inspired living room, hang up coastal artwork on a plain wall. Paintings of the beach, images of your coastal vacations or wicker wall decor are all very fitting.
Don't go overboard with this gallery wall and think of it as an additional piece to lightly spruce up the place and prevent bare walls.
Photo source: Finding Sea Turtles