The COVID-19 pandemic disrupted the world. When a change of this magnitude hits, the effect will be drastic. And one of the industries that was very badly hit was the restaurant and bar industry.
Like hitting the reset button. Or maybe, refresh.
In order to cope or stay open, drastic remodeling of restaurant design has to be implemented to cater to changing habits and preferences.
As we readjust to welcome a post COVID-19 world, design need not take a back seat. These restaurant design trends let out all creative juices to ensure diners are and feel safe while maintaining aesthetic appeal, and a little bit of intrigue. Because one thing is certain, restaurants that make their diners feel safe will bounce back and maybe, come out of this stronger.
"When restaurants eventually reopen, there are going to be some alien elements to our regular haunts due to physical distancing – be it different layouts, how we order, how we're greeted and even the simple task of going to the loo," says Adam Hyman, founder of Code Hospitality. "A lot will come down to the confidence of restaurants in how they deal with it."
Photo source: Restaurantware
Prioritize room to move
Spatial allocation has become very important, especially when dining indoors. With the constant reminder of social distancing and standing six-feet apart, the personal spaces of your diners have just gotten way bigger. And it will not do you good to encroach on this space.
While you can allocate a good amount of space between tables, you have to keep in mind that servers will need to move around the tables. Therefore, there might be a need to sacrifice a table or two to get that additional space.
One quick design tip in assisting the movement inside restaurants, and especially helpful when there is a queue, is 'wayfinding'. You use visual cues through design, to mark the path. Instead of pasting markers or drilling additional signs and stands, you can use the patterns and color of the flooring or tiles to delineate spaces.
This way, it eases the flow of any potential traffic inside. And, affords a level of convenience depending on the customer's action plan – dine-in or take-out.
Open kitchen designs
Before COVID, many modern kitchen designs already incorporated the open kitchen layout, especially when there's a pretty bar area right 'outside' it. Rather a mesmerizing scene to see the action happening in the kitchen, it gives guests a glimpse of the magic happening inside.
And while this design element existed before, COVID changed its perception, advantage and need.
Open kitchens are a preferred restaurant design element in a post-COVID world because it provides a level of transparency. Brave customers dining-in have more visibility on how the restaurant operates, giving an idea on the level of sanitation in the kitchen. Consequently, witnessing the strict safety and hygiene rules (or maybe lack thereof) will determine their level of confidence in the restaurant or brand.
Photo source: dezeen
Sanitation section at the welcome concierge
Like the changing health habits exercised at home, these should also be practiced in any other indoor area. Especially a place for dining.
Due to COVID, almost any home you enter now will have their own sanitation section right at the entrances (front and back doors). Therefore, many customers will expect this at restaurants, providing a certain level of assurance that cleanliness is priority indoors.
As a welcome concierge, this might influence a customer's impression of the safety standards in the restaurant. Therefore, apart from having the area look good, make sure it works.
Easily 'sanitizable' surfaces
We used to like sitting on comfy, cushioned chairs in restaurants, with tables covered in table cloths to add to that dine-in feel. But today, it might be best to keep the soft, cushy stuff to a bare minimum because guests wouldn't be very comfortable sinking into those anymore.
"I think guests are going to be a little leery of absorbent materials, so we're going to see design become more sanitizable." says Dr. Stephani K. Robson, Hospitality professor at Cornell School of Hotel Administration to Food and Wine.
Hard surfaces, like laminate, that are easy to wipe, clean and maintain as well as spot whatever dirt is on it is seen to be a growing restaurant design trend. Whether it be showing the customers that surfaces are clean and well-sanitized, this approach also helps restaurant owners better maintain the hygiene of their main furniture.
Photo source: Sigma Test & Research Centre
Make outdoor vibes a little more special
One restaurant design trend that is here to stay – outdoor dining areas.
Who doesn't like alfresco dining? Enjoying the breeze and view while having a wonderful meal. However, with COVID, the purpose has become – ensuring that airflow is maximized and the space is there so as to minimize the prolonged presence of virus particles in still air.
Restaurants should have flexibility that allows them to redefine their indoor-outdoor dining options. In NYC, they have the Open Restaurants Program which aims to expand the seating options of restaurants and allow them to spill onto the sidewalks or streets to promote open spaces.
"I believe that by continuing to think about flexibility and how to improve outdoor dining, this 'new normal' will be sustainable," David Rockwell of the Rockwell Group tells Architectural Digest, adding, "Based on what we know about COVID-19, I think we will see more restaurants redefining the boundary between indoors and out. In the long run, restaurants will have to be adaptable, with seating plans that expand and contract easily and quickly, providing a great experience in every format."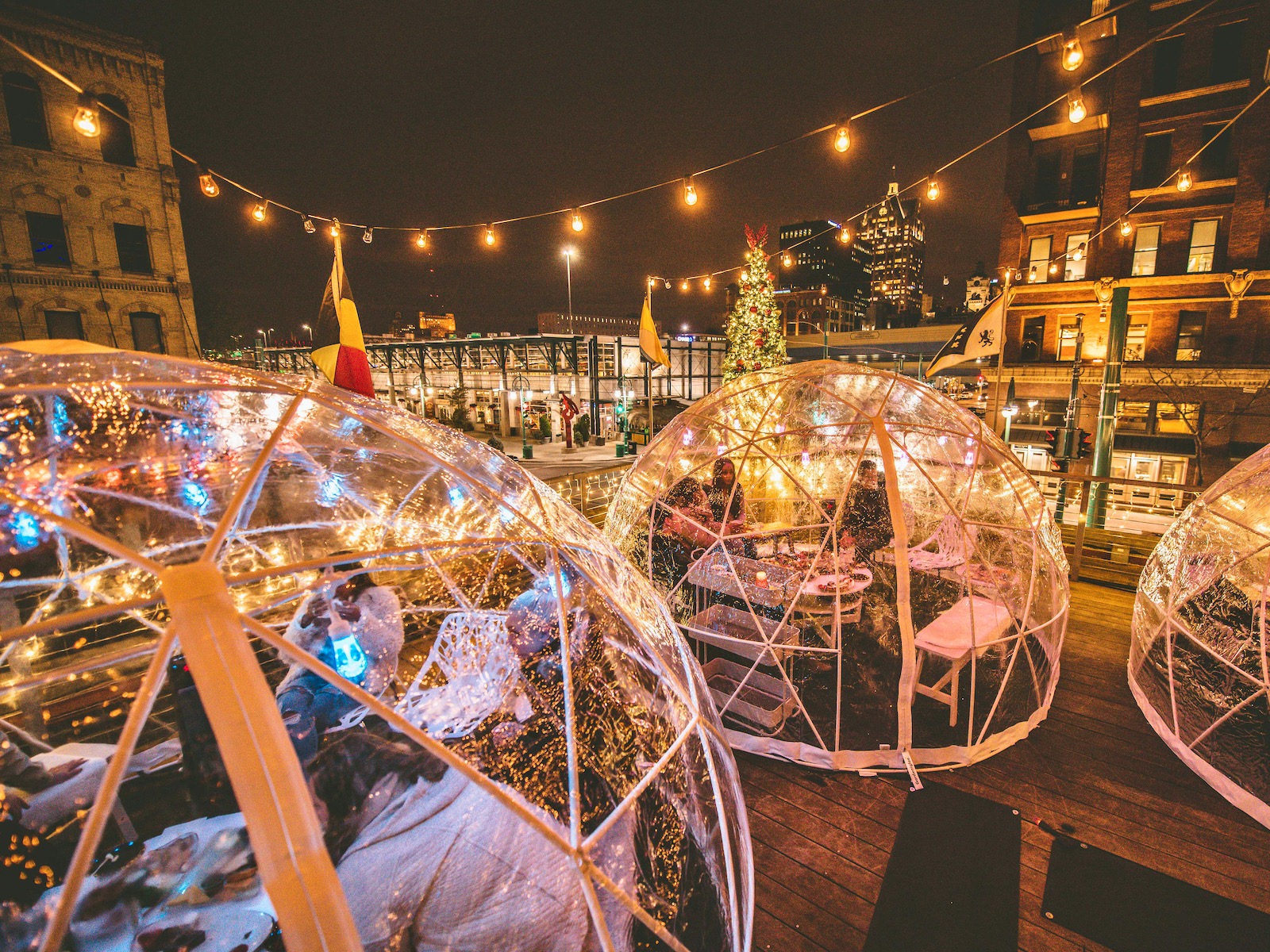 Photo source: OnMilwaukee
Photo source: Town & Country Magazine
Customers will likely automatically select outdoor dining options. In order to offer a pleasurable dining experience sans fear and paranoia, the above points should be maintained but overall design can also be enhanced.
This might be more challenging in cities that have extreme seasonal changes, especially in winter and rain. It's a very hard choice whether to invest in outdoor dining improvements and design or risk closing because of the many uncertain factors and changing behaviors.
"Consumers will determine whether they want to do it, New Yorkers will not freeze their way through dinner," Danny Meyer, founder and CEO of Union Square Hospitality Group and owner of the Gramercy Tavern shared with The Counter. "I don't know if it would make sense to continue if we were at normal capacity. And I don't know how popular it will be once it's 45 degrees and drizzling."
Photo source: The Counter
Adaptable design
While the regulations and the weather permits, restaurant owners have to be quick to adapt and exercise extreme flexibility through creative ideas. Using adaptable and adjustable design, that special outdoor dining space may just be a reachable goal, that can happen in no time.
There's no better time to use that extra balcony space. Or, for restaurants on the ground floor, quickly get permits to use that extra sidewalk, or 'backyard' areas and transform them into outdoor dining space. Having floor-to-ceiling windows that double as doors to the outdoors will introduce a much-needed outdoor space that allows maximum airflow.
"An opportunity would be to start using more operable walls and operable windows to create an indoor-outdoor experience and give that perception of fresh air," shared Ashley Kirkland, Director of interior architecture at GrizForm Design Architects, with Restaurant Dive. "This gives existing spaces flexibility and is a nice way to get that outdoor connection."
If not that then, renovate your wall and incorporate wide windows, as wide as possible. Open them to optimize air circulation and ventilation. Add touches of indoor plants too for that breezier feel. Your diners will feel better, more comfortable and appreciative of the continuous-airflow and air-cleaning efforts you are providing.
Photo source: Continental Door Company
Physical dividers are needed
To maximize space and be smart with design, restaurants used to have lighting arrangements serve as faux dividers to the space. Now, however, it has to be actual, physical dividers. Say goodbye to the bar or open seatings.
Although, instead of only settling for the plexiglass, other design approaches to achieve this could be from high-backed chairs, booths or sectioned seating. Not only will this style lead to better separation of each diner group, so diners feel safely-distanced from others, but it's a chance to make each dining space cozier.
"For casual and fine dining, integrating more intimate dining zones will provide both the physical distancing that is now considered safe practice, and the visual distancing for patrons to feel more at ease and secluded," Lesley Hughes-Wyman, co-founder and principal of MatchLine Design Group, told Restaurant Dive
Photo source: Fortune
Photo source: Restaurant Dive
For the restaurants that will allow it, you can go a bit – or a lot – more creative with your smaller, cozier, booth-like dining spaces. There are bubbles set up on the outdoor spaces that allow your diners some privacy and distance while eating without sacrificing the view of the outside.
Check out the design created by the Eten restaurant in Amsterdam. They erected mini greenhouses in their restaurant's backyard so their customers can dine outdoors, socially-distanced, and protected from the weather, while enjoying the view right beside the canal.
Mediamatic Foundation's Eten restaurant in Amsterdam and their mini greenhouses to keep guests safe and distanced from other diners and visitors. Photo source: Architectural Digest
Contactless services with digital innovations
When COVID hit, restaurants had to scramble to get on varying digital platforms and services. Almost two years in and customers continue to rely on online ordering, delivery and other services; this need will not go away.
Right now, as restaurants slowly allow dine-in guests; eating indoors will require a lot of technological 'presence' to cater to new regulations and changing needs. Bottomline is, contact is best kept at a minimum, preferably, contactless.
Contactless technology in restaurants means digital menus, QR codes, mobile payment systems and the best one, robots. For any restaurant who's implemented these systems and processes, there's been at least six months or so of practice and trial and error. Simultaneously, customers are getting better adept at it. Therefore, they expect it to be as seamless an experience as possible.
"We are making many creative changes at all of our locations in Tulum, Miami, and NYC. There will be electronic waiting lists with QR codes, and QR codes at every table to allow diners to order and pay for food and cocktails by smartphone," James Gardner, founder and owner of Grupo Gitano, told Food and Wine
Photo source: Intelligent Living | A cafe in Tokyo uses robot waiters controlled by paralyzed people or people with severe disabilities.  
Photo source: The Jakarta Post | A Dutch restaurant reopened with the help from a group of new staffers: robots.
Food-to-go counters or ghost kitchens
Creating outdoor dining space may not be enough. As such, restaurant owners will have to cope using refurbished take-out counters. That's where most of the restaurant sales are coming from these days. You may not have customers come in and enjoy, but at least, there's still that tiny bit of interaction between the customer and the restaurant through a walk-up, pick-up window.
Additionally, with a severely reduced indoor dining capacity, there are also many restaurants who've decided to expand their kitchen capacity instead – making it a 'ghost kitchen'. Basically, it's a fully operational kitchen that focuses on food preparation mainly for delivery or sometimes, drive-thrus; so, there are no waiters or dining areas.
These 'ghost kitchens' may not have any customers to attend to in-house, but they're very much alive on food and delivery apps. If you decide towards this route, you can keep your brand and it might even save you some overhead if you move that kitchen off-premises, to a less prime location compared to where your current restaurant stands.
Photo source: Food and Wine
Maybe, escapist restaurant interiors
With fewer people dining out, the experience should be elevated.
On top of the rather strange dining experience during COVID, there's something more that customers may look for to make it more memorable. Some experts shared that escapist designs which are original and slightly surreal will be appreciated and may be seen in more and more future dining spaces.
While restaurateurs are pushed to readjust following spatial requirements and needs, they might be asked to inject some originality too.
According to a trends report by Dubai-based design studio, Roar, "[Escapist design] could be "the lasting design legacy of the pandemic. Restaurateurs are not really asking for new spacing – but they are pushing for more originality."
Photo source: dezeen | The escapist interiors seen in The Ivy Asia in London.