There's something about grandma's house that makes us feel so cozy.
The floral prints, cross-stitched decor, and vintage furniture create a soothing atmosphere that brings us back to the good old days. Considering the challenges we've been living through, it's no surprise that more people are gravitating towards design styles that promote a sense of comfort and nostalgia.
Enter: 'granny chic', also known as the grandmillennial style.
It's a design trend that has been inspired by the vibrant colors, bold fabrics, and the carefree mish-mash of patterns we often see in grandma's living room.
You'll later see that it's the total opposite of the sleek, all-white minimalist interiors that we're so used to seeing. Forget about 'less is more'. Granny chic design is all about 'more is more' – vintage maximalism – an interesting mix of pieces that express your individuality and unique personality.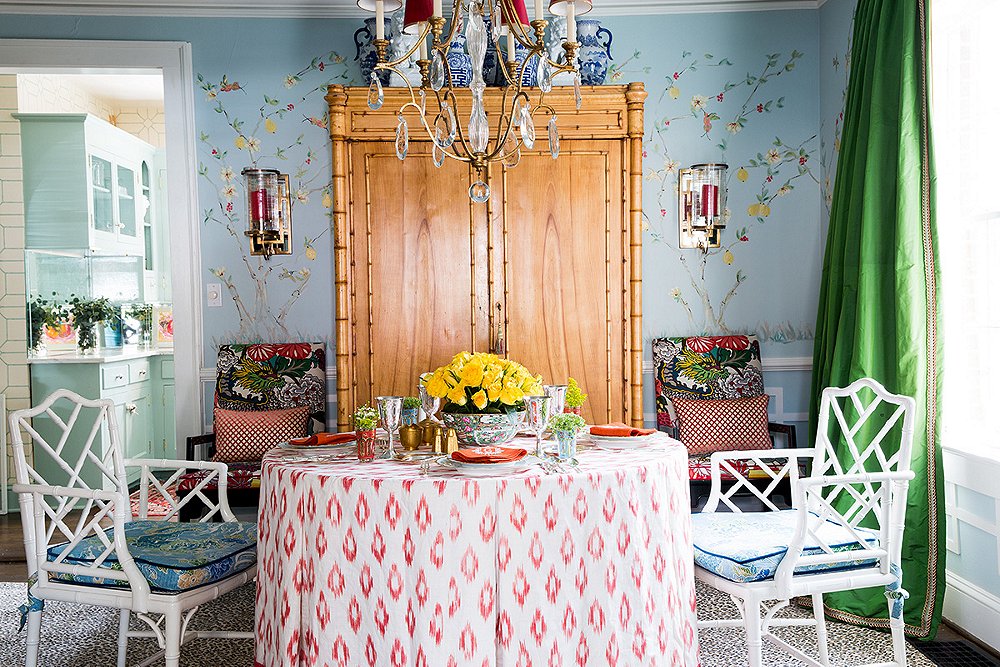 Photo source: One Kings Lane
In our interior design series, this round will all be about Granny Chic Interiors: What it is and how to do it at home.
Let's get started.
What is Granny Chic?
Granny Chic weaves together traditional elements and modern designs to create an eclectic look that still feels homey and approachable. It is the modern revival of the traditionalist design in a way that has elegance but with a bolder, quirkier twist.
This is a popular design trend for folks in their mid-20's to early '30s who have an appreciation for the past. Just like the growing interest in vintage fashion and retro aesthetics in pop culture, more millennials are revisiting what was typically known as outdated and old fashion designs.
As its name somewhat suggests, the granny chic or grandmillenial trend is also influenced by the wave of nostalgia for handmade items and unique vintage furniture. Even pastime preferences see more hobbies like knitting, embroidery, and even affinity towards analog instead of digital.
Charming, cozy, and wholesome.
Granny chic embodies the concept of being totally you, comfortable in your own space. As it mixes traditional and modern approaches and elements, this trend creates a design style that exudes eccentricity and effortless formality.
Photo source: BBC
Our favorite grannies do not let go of stuff. They keep the sentimental and also, non-sentimental items. Much-loved, old pieces, furniture, frames, family heirlooms, with modern touches, patterned textile, and flea market finds, the culmination of all these pieces create a lived-in look that expresses your unique personality.
"What I love about an old-school, layered – some might say cluttered – aesthetic is that it actually lets you show your personality. When someone walks into my apartment, I want them to get a sense of who I am and what I collect, and where I've traveled" – Nan Philips as quoted by House Beautiful
Do you have that fuzzy, nostalgic, happy feeling growing inside you now as you remember the good old days?
Well then, let's show you how you can incorporate the granny chic look in your home to turn that feeling into reality. Try out these tips and tricks to get you started. Your grandmama's magic touch will be in your home soon.
1. Choose Chintz-style floral decor
Create a warm and inviting retreat with floral patterned everything. Start with your chintz-floral wallpaper, which is a staple in granny chic style. Described in an article by Homes and Gardens, chintz is printed, the multi-colored cotton fabric used for curtains, upholstery, and wallpaper designs.
The vibrant colors and floral motifs in chintz decor bring their unique charm into your home. To create a cohesive look, use the same floral fabric on the walls and curtains, maybe even some furnishings.
It's the easiest way to bring nostalgic comfort and eclecticism into your space. Your home would immediately have that grandmillennial feel with Laura Ashley-esque wallpapers that add a whimsical look without being tacky.
Photo source: Vogue SG
Chintz can be used for one statement or investment piece. Or you can just get a touch of chintz with your pillows, curtains, walls, or some furnishings like lamps.
But if you're really feeling this granny-chic-with-chintz vibe, go ahead and create a quirky space by using the same prints for your wallpaper, lamps and headboards. This gives your room a distinct look and feel without going over the top. Just make sure the other stuff in your space complements this uniform approach.
With this particular design, your space is like looking more like a Wes Anderson set. The muted color and the floral patterns look oddly satisfying, approachable, and stylish.
Photo source: Veranda
2. Layering, ruffles and embroidery
Granny chic is soft, feminine, and fun.
Some favorite accessories include embroidered linens, lace, and doilies. Crochet blankets, knitwear, and cross-stitched pillow cases are common decors you'd most likely spot in a grandmillennial home. These are great ways to create layers and bring a sense of comfort to any room.
Just imagine, isn't there something comforting about a ruffled, frilly, handmade blanket draped on a bulky armchair? It reminds us of weekends at grandma's and the smell of tea, old books, and something baking in the oven.
This comes hand-in-hand with the growing interest that technology-savvy millennials have in needlepointing as a way to disconnect. Similarly, it complements their need to live a slower, simpler, and more mindful life.
Photo source: Vogue
3. Traditional elements for old-school elegance
Granny chic also shares a lot of similarities with the traditional interior style where it incorporates classic art, antiques, rugs, and ornate drapery.
Gold and silver decor, fine china, and crystal chandeliers add a timeline quality to your space. When it comes to adding classic elements, they are usually grand and add a dramatic touch. To add opulence into the room without overdoing it, use high-end fabrics like silk, velvet, or bold colored fabrics to decorate your upholstered goods.
For your entryways and dining area, display your grandma's old tea sets, and blue and white chinoiserie ceramics. Make sure to add faux flower arrangements or fresh blooms to breathe new life and add a pop of color. Florals are also a great way to extend the floral patterns or prints being used in the room in order to create a cohesive look.
Photo source: Veranda
To replicate the design elements of the traditional style into your grandmillennial home, center your room around a focal point like a vintage oil painting, ornate mirror, or fireplace.
When it comes to choosing your furniture, add a touch of traditional aesthetics through a classic sofa with rolled arms, a regal armchair, or a wrought-iron bed. Soften it with layers of textile and add rattan and wicker to complete the look. This will enhance your space and create a laid back elegance.
4. Mix and match for a personalized, homey look
In this vintage maximalist approach, you must mix and match.
At the heart of granny chic is mixing decor from different periods and decorating with unique pieces that are hard to find anywhere else. Doing so makes your space feel more personal and less consumerist.
Deliberately mismatch different items that have clashing patterns to create an eclectic collection of things, quaint knick-knacks, and playful colors. Going through your home will feel like stepping into a curated museum of things that you hold dear. Things that remind you of your favorite places, and things that tickle your curiosity.
Photo source: Rita Konig
For a grandmillennial, pieces that trigger a fond memory are much more important than those you buy in a shop. The home becomes a place to share one's personality, family history, treasured possessions, and current obsessions.
With this, use different design styles to express yourself – may it be through combining collages with a simple background or dark wooden furniture with light wooden frames.
For a reading room or a cozy living room, choose a bulky, sofa and pleated lamps outfitted with patterned fabrics. Use vases with natural figures instead of sharp geometric shapes. Bring a homey feel into your home by decorating with vintage rugs, your grandmother's hand-me-down furniture, and thrift finds. Combine them together to create a mismatched, eclectic look.
Doing so can also create a carefree and 'lived-in' look that makes your home feel more warm and intimate.
Photo source: Country Living
5. Antique furniture is a must-have
Along the same lines, granny chic is all about mismatching and that's even more present in selecting furniture. Finding antiques and unique secondhand pieces at a bargain are hobbies that grandmillennials share. It adds more character to your space.
And one thing is common in these unique finds – there is no common denominator. All of them are different, quirky and pretty in their own way.
Lovers of these finds have an eye for the unique. This trend also embraces sustainability and finding furniture that has good quality instead of the mass-produced pieces that everyone seems to have. Those going for a granny chic look are interested in one-of-a-kind decor and upcycled goods.
"Young people are increasingly appreciating and investing in things with soul and history that will stand the test of time" – Jack Bristler, aka Trad Chap in an interview with Buro247
Photo source: Stefano Giovanni
Antique furniture is definitely a statement piece in any room. Adorn it with candle ware and other family heirlooms to make it feel even more personal. After all, this interior design style is all about choosing pieces that make us comfortable, rooted, and welcomed.
"There's such a beautiful nostalgia to the trend – your grandmother probably inherited her furniture from her grandmother. There's this element of storytelling where people are looking to emotionally connect to their interiors, and this trend is a reaction to that." – Christiane Lemieux, co-founder and CEO of The Inside in his interview with MyDomaine
Photo source: Chicago Tribune
6. Be bold with color
There's no space to be shy with granny chic interiors.
Stray away from the white and black palette of minimalism design and embrace the bold, brave, and vibrant colors that paint the granny chic home. Don't be afraid to mix pastels with rich colors and patterns to create rooms with distinct characters.
Make a statement with brightly colored furniture that one would not expect like a green cupboard decorated with blue china and gold accents. It's certainly an eye-catching combination that can make the room more fun and comfortable.
Feel free to mix and match different hues and patterns to make your space feel more carefree and effortlessly chic. Use colors liberally in your furniture, bedding, textiles, drapery, walls, and fixtures.
Photo source: Interior Fun
Another way to decorate with color is to use the same palette in patterns and textiles to create a monochromatic look that feels very fresh and modern.
It can make your room feel more homey and pleasing to the eyes. And it's definitely a softer look compared to the earlier rooms. That's perfectly fine since there's no strict way to use it. For the granny chic style, color is a must but how you decorate with it is totally up to you.
Photo source: Havenly